The Egan Family are proud owners of Inch House since 1985. The family bought the house & farm that surrounds it with no idea as to the real treasure that lay inside this Georgian mansion. John, a farmer, and Nora, a nurse, along with their eight children have worked tirelessly to bring their dreams for Inch House to fruition and opened their home to guests in 1989 following a major restoration project.
Since the
award winning
restaurant opened its doors in 1994, there has been an enormous team effort to build up a reputation among the customers both locally and in the surrounding counties. Through using locally sourced produce and great quality ingredients from the heart of Tipperary and Ireland,  the Egans and team at Inch House with Head Chef John Barry at the healm, have developed menus that appeal to every palate.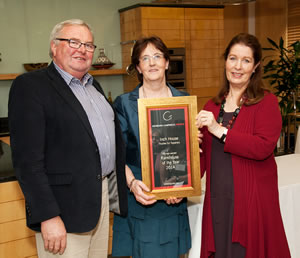 To book your special evening, please contact one of our team on
+353504 51348. We will be only too pleased to work with you to prepare a feast for all to enjoy on your special occasion, or to coordinate that special short break away from the hustle and bustle of daily life to the unique hideaway that is Inch House, Country House & Restaurant.