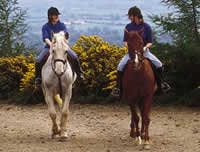 Tipperary is synonymous with the Horse and has a huge variety of getaway adventures for the horse lover.
Inch House is a brilliant base to get out and about on the plains and hills of Co. Tipperary on Horseback. Whether it is a simple two hour trek or an intense few days of cross country or Hunting in season, we can arrange and cater for all your needs.
We have teamed up with Crossogue Stud (http://www NULL.crossogue-equestrian NULL.ie/), where the Molloy family home is also found in a wonderful setting and is a working family run farm, to offer a number of packages.
Specialist activities like hunting in season can all be arranged in advance with reliable local operators. Please contact us directly for prices to include these seasonal activities.