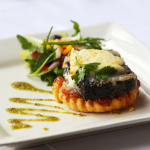 Hand crafted by Mairin Byrne with a recipe developed by her mother Nora at Inch House Country House & Restaurant, Inch House Traditional Black Pudding is made from a family recipe handed down from mother to Daughter. Nora's mother Mary Ryan is 97 years young and very proud of her recipe and the success of her pudding.
Using old methods & locally sourced ingredients, Inch House Black Pudding is a culinary experience to savor and can be enjoyed on its own or as an excellent compliment to any of our native artisan products.
See below for some of our tasty serving suggestions.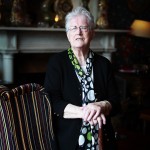 Nora has developed a gluten free pudding for the coeliac market as well as a wide range of homemade chutneys and dressings all of which are highly recommended.
For more information please contact Mairin on 00353 87 9108001
email inchhousepudding@gmail.com
Twitter @inchhouse
Inch House black pudding serving suggestions:
Roast Fillet of Pork/Chicken stuffed with Black Pudding & Apple
Crispy Black Pudding Potato Cake, Poached Egg
Pan-Seared Black Pudding with Roast Sweet Potato, Pea Puree & a Poached Egg
Black Pudding Wrapped in Filo Pastry & Served with Inch House Plum or Mango Chutney
Black Pudding Salad with Crushed Baby Potatoes & Sweet Chilli Mayonnaise
Black Pudding Topped with Gortnamonna Goats Cheese on a Bed of Red Onion Marmalade & drizzled with Inch House Berry Compote
Pan-Seared Black Pudding with Caramelised Onions with a Sherry Vinegar Sauce
Black Pudding Served on a Bed of Brambly Apple Sauce
Black Pudding with your Traditional Irish Breakfast