The emphasis at Inch House is on relaxation, refreshment, great country food & friendly service. Our farm provides fresh vegetables & herbs to our menus along with incorporating the best of local produce including fresh fish & game in season and prime meats from the heart of the Golden Vale. The dining room's classic Red & Gold decor, polished wood floor, white table linen & large picturesque windows offers an extensive menu allowing a varied choice of dishes to suit all tastes. Special dietary needs are catered for on request and friendly staff are more than willing to help and advise with any of the dishes.
"Inch House, Recommended by Georgina Campbell's Irish Guide"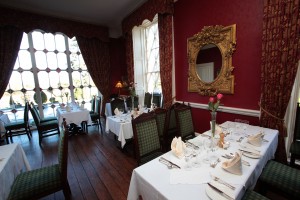 We offer a Mid Week Menu From 6.00pm -9.30pm Tuesday to Fridays.
 4 Courses  for €40 (starter, main, dessert, regular tea/coffee)
 Saturday we offer an extensive A la carte menu

.
IMPORTANT NOTICE
***Groups may certainly bring celebration cakes to the restaurant however they can not be used to substitute dessert and will only be served after dessert with tea & coffee.Thank you.
***Please also note with new legislation in relation to allergens, we can not take responsibility for any consequences in relation cakes brought to our restaurant and consumed onsite.
*** Allergen folder available regarding menu. Please ask a member of our team to clarify our dishes inrelation to your allergy.
Special Menus are also available for group booking, please contact Inch House on 0504 51348 for further details.
Here are a sample of our menus and please note they are subject to change:
Inch House Midweek  Menu -sample only subject to change 
Three Course €40.00
Starters:
Atlantic mussels gremolata done with garlic crumb crisp topping, lemon zest & fresh parsley
Salad of Irish smoked chicken with a brunoise of vegetables and served with our Inch House balsamic dressing
Cream soup of evening
Inch House Black Pudding salad with sweet potato wedges, red onion and Inch House garlic and herb mayonnaise (Black pudding available Gluten Free)
Parisenne of Melon served with fruit & Baileys cream liquor
************************************************
Optional starters:
Silver hill barbury Duck breast spring roll with plum sauce
(€4.00 supplement)
Deep fried Cooleeney Cheese served with Inch House red onion marmalade
 (€4.00 supplement)
Timbale of poached cod & salmon, chilled topped with zesty cocktail sauce & complimented with Burren smokehouse rosette of smoked salmon (€4.00 supplement)
Our salad  leaves come from a local organic grower called the green bowl company
************************************************
Main Course:
Irish sirloin 8oz steak cooked to your liking & served with creamy pepper sauce
Oven baked supreme of Irish chicken stuffed with Tipperary brie, basil and sundried tomato served on a corn mash and accompanied with a pesto cream sauce
Honey roasted Confit of Irish Silver Hill duck leg served with braised red cabbage & Inch House ginger & orange sauce
 Gortnamona goats cheese tartlet served with red onion marmalade
Baked fillet of Hake with a caper and black pepper caper crust served with citrus beurre blanc
All main courses served with selection of local vegetables & steamed potatoes & garlic potatoes.
Our potatoes are grown here at Inch House along with herbs and salads in season.
Optional Main courses:
Irish Fillet 10 oz steak served with creamy Fahey's farm chestnut mushrooms & a bordelaise sauce (€10.00 supplement)
Grilled fillets of Seabass served with Irish bacon & leek cream sauce (€7.00 supplement)
Rack of Irish Lamb served with colcannon & sweet onion jus (€9.00 supplement)
************************************************
Midweek Dessert Menu:
Shortbread ginger
biscuits
 Shortbread ginger biscuits served with cider
& apple compote with chantilly cream
Strawberry Toblerone cheesecake 
Strawberry Toblerone cheesecake
served with Bailey's scented chocolate sauce
Inch House Style sticky toffee pudding 
Inch House sticky
toffee pudding served warm with vanilla ice-cream & chocolate crème
anglaise
                                                                                                                  Homemade Ice-cream
Selection of Inch House Homemade
Ice-cream served with Fresh Cream
                                                                           Optional Desserts Midweek:
Hazelnut Meringue €3 supplement
Hazelnut Meringues
served with fresh cream and caramel sauce
Inch House Dessert Plate €5 supplement
A selection of Four
Desserts from our Pastry Chef
Fruit
Sorbets €2 supplement
Selection of Fruit
Sorbets complimented with Seasonal Fruit
Inch House A la Carte Menu
Appetiser:
Cream soup of the evening €7.00
or
Boulabán farm fruit sorbet €4.50
 ****************************************************
Starters:
    Baked Atlantic Mussels €9.00
Baked Atlantic mussels with a garlic crumb crisp topping
  Inch House Salad €9.00
Crowe's farm bacon, croutons, red onion & cherry tomato tossed in wholegrain mustard Caesar dressing
 Parisian of Honey Dew Melon €8.00
Parisian of Honeydew melon served with fresh seasonal local fruit & dressed with Baileys Liquor
Inch House Black Pudding  & Goats Cheese €10.00
 Inch House Black Pudding, & topped with the award winning Knockdrinna Goats cheese & served with Caramelised Onions & mixed Berry Compote
Smoked Chicken & Mushroom crepe €10.00
Smoked Chicken & mushrooms served in a cream sauce & a savoury crepe
 Prawn & Avocado €11.00
Avocado filled with prawns, topped with Marie-rose dressing & side salad
Our traditional black pudding is Handmade here at Inch House using only the freshest of Local and Irish ingredients On St. Patricks Day we won a bronze Medal at the Concours International du Meilleur 2011, France.
***********************************************************
Main Course:
Irish Entrecote 10oz Steak €27.00
Sirloin Steak cooked to your liking & served with a Pepper Sauce (h)
 Irish Fillet 10oz Steak €30.00
Fillet Steak cooked to your liking, served on a bed of Sautéed onions & topped with a with Mushroom & Whiskey cream sauce
 Supreme of Irish Chicken €25.00
Supreme of Irish chicken stuffed with chorizo & Crowe's farm streaky bacon & served with a wholegrain mustard Sauce
 Grilled Fillets of Seabass €26.00
Fillets of Seabass served with nibbed almonds & a citrus beurre blanc
 Roulade of Irish Pork Fillet €25.00
Fillet of Irish pork from Crowe's farm, rolled and stuffed with Inch House black pudding & apricot herb stuffing with a redcurrant reduction
Grilled Fillet of Hake €25.00
Fillet of Hake served with a julienne of stir-fried vegetables & pesto cream sauce
 Vegetarian Spring Roll €18.00
Selection of roast vegetables wrapped in spring roll pastry & served with our Inch House plum chutney
Main Courses Served with a Selection of Vegetables &Potatoes.
 All Main Dishes are served with Sauce on them. Please mention when ordering if you would prefer Sauces served separately on any Dishes.
 ****************************************************
Dessert:
As a member of Good Food Ireland we are committed to using the core indigenous ingredients of Irish cuisine and promoting local and artisan food producers
Luxury Chocolate Tart €8
Rich Chocolate tart with a Shortcrust Pastry base served Homemade
Ice-cream
Inch House Dessert Plate €10.00
A selection of Five Desserts from our Pastry Chef
 Homemade Ice-cream  €7.00
Selection of Inch House Homemade Ice-cream served with Fresh Cream
 Berry Crème Brulle  €9
Glazed  Berry Crème Brulle served with Fresh Cream
Fruit Sorbets €7
Selection of Fruit Sorbets complimented with Seasonal Fruit
Selection of Farm House Cheese €10.00
A selection of Farm House Cheese from across Ireland
Mixed Berry Cheesecake €8
Mixed Berry Cheesecake served with fruit compote & fresh cream
 Sticky Toffee Pudding €8
Warm Sticky Toffee Pudding served with caramel Sauce & vanilla Ice-cream
Tea/Coffee €2.00