Here's a recipe for a hearty sweet & nutty bread that goes down a treat with our customers in Inch House. Beautiful with fresh creamery butter and a savoury starter like our Inch House Traditional Black Pudding salad or home-made soup.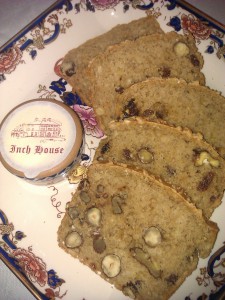 Ingredients
12 oz Selfraising Flour
1/2 pint of Guinness
2 oz Pinhead oatmeal
1 Egg
1/4 pint Milk
Poppy seeds
4oz mixed nuts e.g. Hazelnuts, walnuts chopped almonds
2oz sultanas
1tsp Second Nature Happy Heart Oil
1 dst sp Brown Sugar
1/2 tsp Cinamon
Mix all the dry ingredients by hand in a mixing bowl. Add the Second Nature happy heart oil and mix it through.
Add your Guinness, egg and enough milk to make the mix into a dropping consistency.
Grease a 2lb loaf tin and add in your mixture. Topp with poppy seeds.Place in the oven for 40 minutes at 160c in a fan oven