On Thursday, 31st October 2013, Bord Bia announced Inch House, Thurles, Co. Tipperary as the Just Ask Restaurant of the Month for November. The Just Ask campaign encourages diners to look for information on where the food on their plates comes from when eating out and the monthly award is given to restaurants that demonstrate best practice in providing customers with this information. Built in 1720 and rescued from dereliction by John and Nora Egan in the 1980s, Inch House stands at the centre of the family's large tillage farm near Thurles.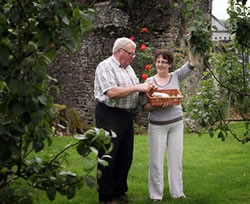 Beef is supplied by ABP in nearby Nenagh and lamb from Slaney Valley in Camolin, Co. Wexford. Glinvalley chicken and Silverhill Duck are supplied by Pallas Foods and pork and bacon come directly from Crowe Farms of Dundrum. Fresh fish is supplied by Atlantis, Kilmore Quay in Co. Wexford and potatoes, seasonal vegetables, salads and herbs are produced on their own farm and also come from The Green Bowl company, an organic grower in Cahir. Nora's own traditional award-winning black pudding is handmade on site from an old family recipe. Crossogue preserves feature on the breakfast table along with Burren smokehouse smoked salmon and a Tipperary cheeseboard with Cooleeney and Cashel blue to the fore.
Recent research from Bord Bia has revealed that supporting local businesses is a key consideration for members of the public when eating out, with over two thirds (69%) of the population rating 'the use of Irish/local produce' as important when going out for a meal.
Speaking about the restaurant's sourcing policy, Nora Egan, proprietor, said "Showcasing local produce has always been a priority for us. Provenance is king and we list details of all of our producers throughout our menus and on our website."
The Just Ask campaign was originally launched by Bord Bia in 2009 and has been embraced by the restaurant trade since then. The Just Ask! Restaurant of the Month is selected by trusted Food Writer Georgina Campbell, in agreement with Bord Bia each month. It rewards eateries around the country that have demonstrated a commitment to transparency with regard to the sourcing of the ingredients used in their restaurant.
"A number of local businesses that are members of the unique Tipperary Food producer's network also feature on the menu," says Georgina Campbell. "It all adds up to a vivid sense of place that visitors take away with them on leaving."
For further information on previous Just Ask winners or to find out how you can get involved visit the Bord Bia website (http://www NULL.bordbia NULL.ie).